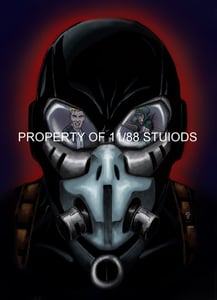 $

5.00
A group shot of all the characters I've created that have ever had the 11/88 Logo on them.
Tyler Kirk (Growing Pains)
The Legend Killer
Modern Hood.
Modern Hood is set to be published by Arcana Studios now as an 80 page graphic novel.
The water mark will not be on the print. But my logo will be on the lower (left or right) corner.
The print is 11*17 on good quality card stock. A limited quantity are signed by artist David Johnson http://trugg.deviantart.com/ & colorist Maria Belen Pilaftsidis-Horsch.
These will NOT come rolled nor should they be rolled.